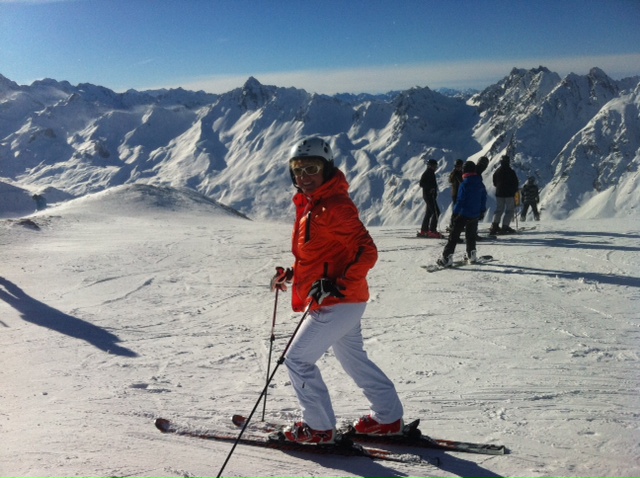 Nein, der Winter ist noch lange nicht zu Ende! Also heißt es für alle Golfer – wie unsere Gastautorin Elsa-Maria Honecker – noch Geduld haben mit dem Lieblingssport, auch wenn die Schneeglöckchen schon herauslugen und die Wiesen langsam grün werden. Was macht also der Gourmet-Golfer in diesem Fall? Er schwingt sich da auf die Piste, wo er normalerweise dem weißen Ball hinterherläuft, schlemmt sich durch Hauben- und Sternelokale und gustiert die schönsten Hütten der Alpen. Eine Skireise ins Tirolerische hat von allem etwas. Zumal Kitzbühel auch bequem per Zug oder KitzSkiXpress zu erreichen ist (hier ein Schnappschuss aus dem Zug auf einige Ballonfahrer) – lesen Sie mehr…
Für mich ist Kitzbühel mehr als der High Society Ort mit internationalem Publikum und Treffpunkt der vielen B-Promis, für die das Event "Hahnenkammrennen" an allerster Stelle im jungfräulichen Jahr steht. Zu recht aber, denn immerhin zählt die Streif-Abfahrt seit 1931 zu den spektakulärsten Rennen der Welt. Ganz nebenbei wurde das Skigebiet mit seinen 170 Kilometer Skiabfahrten gerade mit dem "1st World Ski Award 2013" ausgezeichnet und zu Österreichs bestem Ski Resort gekürt. Wobei natürlich auch die hohe Zahl der Luxus-Hotels und die attraktive Apres- Ski-Szene mit zählt: Ein Hochgenuss auf den Brettln mit Skischaukeln bis zum Paß Thurn. Da hat sogar unsereins, die mit Skiern groß geworden ist, ihre Mühe. Mir gefällt aber vor allem die 700 Jahre alte Altstadt mit den bunten Häusern, die sich aus Platzmangel eng aneinander drücken und den Pferdekutschern einiges Geschick abverlangen. Und – natürlich – die Genuss-Meile mit einer unglaublichen Vielfalt an Kneipen, Bars und hochwertigen Restaurants. Mit satten 12 Hauben im Gault Millau 2013 zählt die Gamsstadt nicht nur zu meinen Favoriten, sondern punktet auch als Gourmet-Hotspot ganz Tirols. Einziger Wermutstropfen: Der beste Koch Tirols Simon Taxacher kocht im Nachbarort Kirchberg und kann sich mit 19 GM – Punkten schmücken.

Zu Gast im Relais& Chateau Hotel Rosengarten
Wer sich unter dem Namen Taxachers Rosengarten etwa ein schnuckeliges Schlößchen mit wildrankenden Rosen rundherum vorstellt, der wird vom Anblick dieses modern gestylten Hotels fürs erste überrascht sein. Dunkles Holz trifft hier auf Edles in Leder – ganz im puristischen Stil der heutigen Design-Hotels. Als Pendant dazu erwärmt die herzliche Freundlichkeit das Gemüt – vor allem im Service. Das zieht sich durch alle Bereiche – vom Empfang durch die Firstlady Sandra Kobald bis zur kleinen, feinen Spa-Rezeption mit Saunen und Massageräumen ins Reich von Patricia, die als Skilehrerin weiß, wo es am Abend weh tut.

Lieben Sie Hummer oder stehen Sie auf Kaviar? Dann wählen Sie hier zwischen der rot-designten "Homard" oder der in schwarz gestylten "Beluga" Suite. Zusammen mit der creme-farbigen "Alba"-Suite gehören sie zu den Luxus-Zimmern hier im Haus.

Den Wow-Effekt bringt dann noch die eigene Weinbar, das Designerbad , der riesige begehbare Kleiderschrank und die großzügige Terrasse zu Chillen. Alpinen Chic mit dunklem Holz, Glas, Marmor und edlen Textilien findet man selbstverständlich in allen 26 Zimmern.

Hier unser Video-Einblick in die Safran-Suite des Hotels:

Ein kleines, feines Bistro hält auch für den Mittagshunger ein paar typische Schmankerl bereit. So wird bei unserem Besuch eine phantastisch frische und feine Frittatensuppe gereicht,

anschliessend ein perfektes, fluffiges Wiener Schnitzel (natürlich vom Kalb) sowie zartes Kalbsbäckchen mit Erdäpfelpüree. Ein Traum.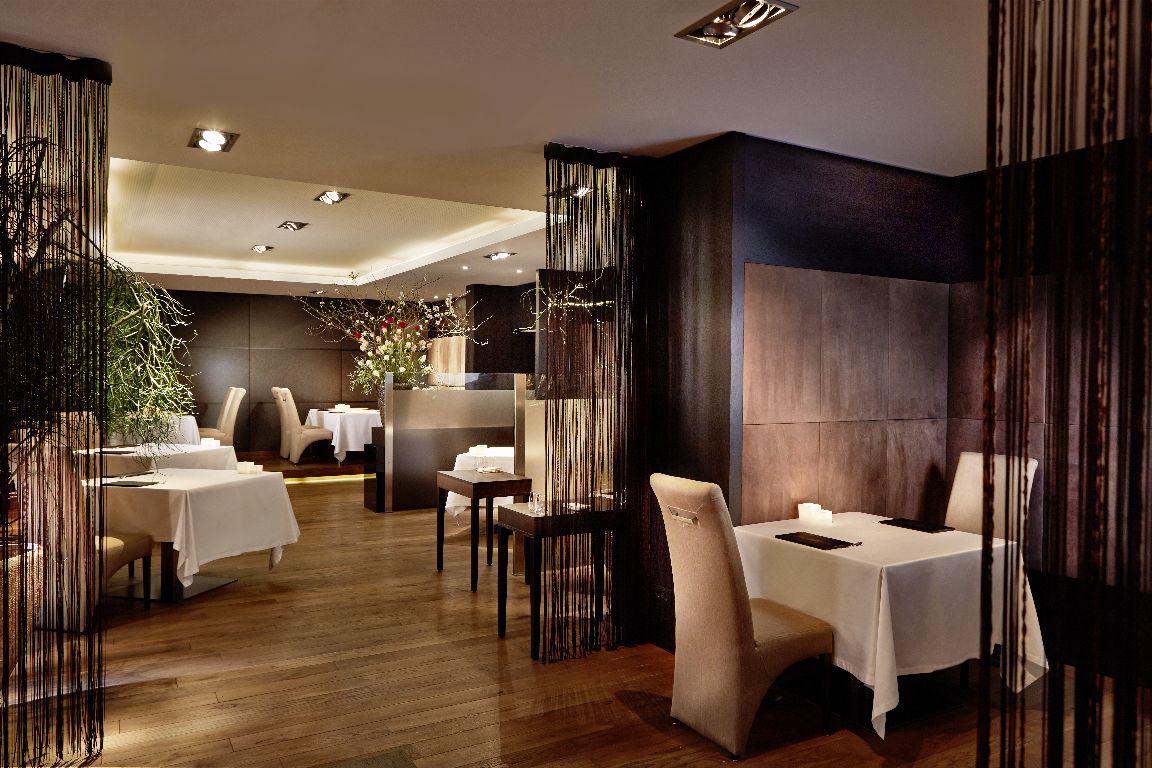 Dieses Ambiente setzt sich bis ins Heiligtum von Simon Taxacher, dem gleichnamigen Gourmet-Restaurant fort. Mit vier Hauben und 19 Gault Millau Punkten reiht er sich in die oberste Elite der besten Köche Österreichs ein und bekocht heute ein internationales Gäste-Klientel. Akribie gepaart mit Kunstsinn und bester Qualität der Produkte gehören zu seinen Prinzipien. Dabei darf das typisch Tirolerische nicht fehlen, verfeinert und geschmacklich auf den Punkt gebracht. Seine Vorliebe gilt aber der mediterranen-französischen Küche, die ihn immer wieder inspiriert.
Für den Gourmet-Golfer ein echter Lichtblick nach einem verhauten Score oder die beste Belohnung nach einem gewonnenen Turnier. Das "Rosengarten" liegt nämlich zentral zwischen fünf Golfplätzen rund um Kitzbühel und freut sich schon auf die Neueröffnung des Westendorfer Golfplatzes, den man von hier in 10 Minuten erreicht.
Simon Taxacher, der geniale Kochkünstler, stellte sich und sein Hotel im Interview mit Le Gourmand – Das Geniesser-Magazin selbst vor: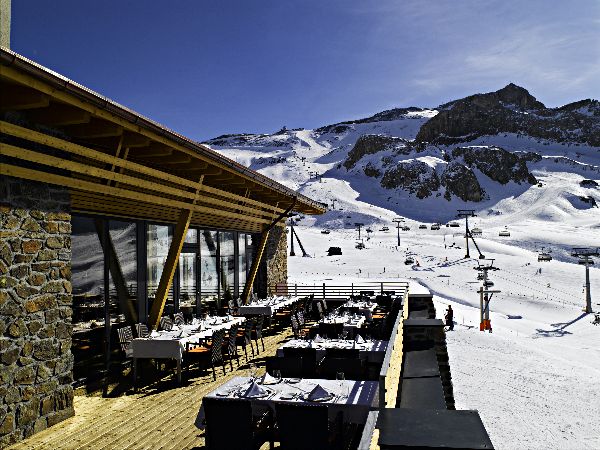 Ski & Golf im Zillertal
Was die wenigsten wissen: auch das Zillertal bekommt nun einen eigenen Golfplatz, der schon in diesem Frühjahr eröffnet wird. Bis dahin interessiert mich aber das Skigebiet rund um Kaltenbach und dort ganz gezielt zwei Gourmet-Hütten – die Kristall- und Wedelhütte. Beide mit Hauben und Sternen dekoriert, eilt ihnen der Ruf voraus, momentan das Beste in der Tiroler Skiwelt zu sein. Als "Skihütte des Jahres" ausgezeichnet ist erstere der perfekte Ort für eine gustiöse Pause beim Skifahren: mit Chillen auf Lammfell-Decken bei DJ-Loungemusik, ein Glas Champagner in der Hand und Blick auf die umliegenden Dreitausender. Aber damit nicht genug, denn Ausruhen auf dem Erfolg kennen die Besitzer Martha und Heinz Schultz so gar nicht und legten mit der Wedelhütte noch ein Schäuferl drauf. Alpiner Chic beim Interieur mit frecher Kunst an den Wänden und duftendem Zirbenholz rundherum auf 2.350 Metern mitten Skigebiet mit 171 Pistenkilometern. Skifahrerherz was willst du mehr?
Vielleicht ein kulinarisches Verwöhnprogramm aus einem Mix aus heimischen- sowie raffiniert internationalen Kreationen? Auf den Tisch kommt Tuna Tartare mit Mango-Chillichutney, gefüllte Speck-Zwiebel-Tascherl an Nussbutter und Asmontekäse, im Wiesenheu rosa gegartes Kalbsfilet an verkohlten (!) Kartoffeln, Gemüse und Morchelsauce und last not least ein Duett von Schokolade und Vanille. Muss ich noch mehr erzählen? Ja, vielleicht noch, dass hier der höchstgelegene Weinkeller Tirols als bestgehüteter Schatz mit etwa 6.000 Flaschen gebunkert ist – der ganze Stolz der Wirtsleute Manni und Moni.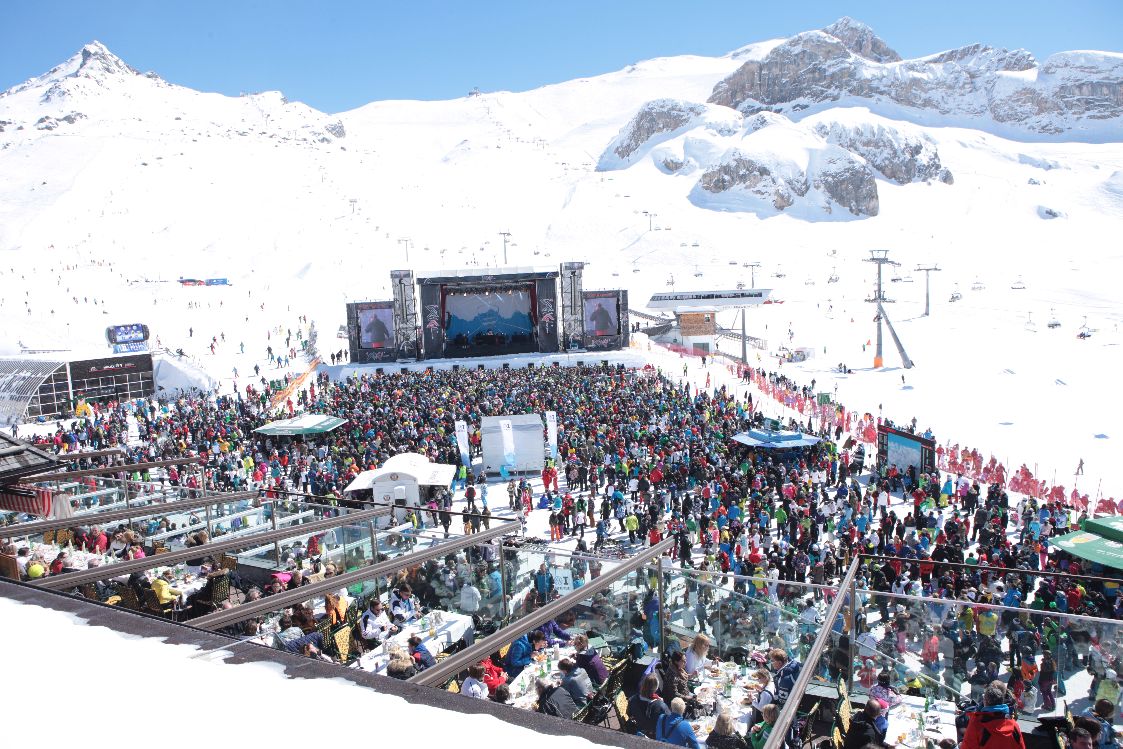 Ischgl und die Ski-WM der Gastronomie
Wer kennt ihn nicht, den Lifestyle-Skiort Ischgl? Auf jeden Fall kennen ihn Lionell Richie, Tina Turner, Udo Jürgens, die Scorpions, Sting, Rod Stewart und Elton John um nur einige zu nennen. Sie alle haben schon die Bühne auf der Idalp gerockt und wer dort dabei war, wird dieses Remmidemmi nie mehr vergessen.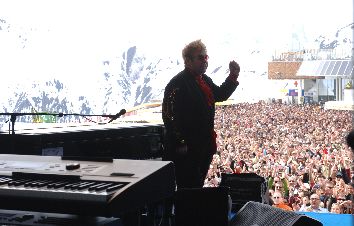 In diesem Jahr können sich Robbie Williams Fans jetzt schon mal den 3. Mai vormerken, da kann man den Megastar hier live erleben – beim Top of the Mountain Concert. Und das ist noch nicht alles: Das 1.500 Seelendorf mit seinem Skigebiet Silvretta-Arena zählt heute in Österreich und sogar weltweit zu den beliebtesten Winter Hotspots. Zwischen fast 3.000 und 1.400 Metern Höhe liegen 238 bestens präparierte Pistenkilometer und einmalige Spezialpisten wie Buckelpisten oder Race-Strecken. Besonders interessant für Cracks: Als eines der wenigen Skigebiete in Österreich bietet Ischgl elf schwarze Pisten und jede Menge Freeride-Abfahrten. Wer´s mag? Unsereins, der ja auch schon ewig auf den Brettln steht mag es hingegen schon etwas kommoder und das heißt: Abschwingen beim Alpenhaus, einem Geheimtipp auf der Idalp, und zu erreichen mit der Silvretta- und der Fimbabahn. Neben Köstlichem aus der leichten Alpenküche, serviert in puristisch-alpinen Design genießt man auch noch einen faszinierenden Panoramablick über die Silvretta.
Passend zu einem First-Class-Gourmettempel mitten im Schnee gibt es hier auch einen eigenen "Mountain VIP Club" mit maximal 300 Mitgliedern. Zwar hat man hier als Golfer nicht gerade das große Erlebnis, denn kein Platz liegt gleich um die Ecke. Da muss man schon über die Silvretta nach Vorarlberg um sich über 9 Löcher hügelauf- und ab zu quälen. Die weiteren liegen in Mieming und Seefeld. Sei´s drum, Ischgl reizt als Partylocation par excellence, denn nirgends sonst im Alpengebiet gibt es diese Après Ski Szene: Lokale unterschiedlichster Stilarten und eine Clubszene, in der Nachtschwärmer bis in die Morgenstunden tanzen und flirten was das Zeug hält.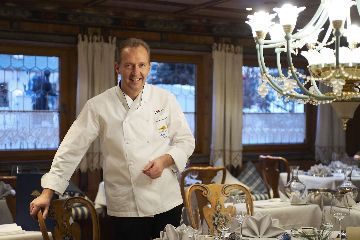 Skifahren mit Haubenköchen
Aber auch Gourmets jeglichen Genres kommen hier auf ihre Kosten und so manch ein Einheimischer hofft im Stillen, dass sich das Image des Skiortes nun langsam ändern wird. Denn seit kurzem kann Ischgl sogar mit fünf  preisgekrönten Gourmetrestaurants aufwarten.
Meine Favoriten in diesem Winter waren die "Paznaunstube" im 5* Hotel Trofana Royal und das Gourmet-Restaurant "Stüva" im Genießerhotel Yscla. Und das hat seinen Grund: im ersteren kocht Martin Sieberer, einer der beständigsten und innovativsten 3-Haubenköche in der Gault Millau-Liste. Wer ihn in seiner urigen Tiroler Stube kennen lernt, ist sofort angetan von seiner ruhigen, sympathischen Art – seine unaufgeregte Gourmet-Küche zu präsentieren. Sein Credo liegt in der Neuinterpretation der leichten regionalen Tiroler Küche und das versucht er sehr erfolgreich in seiner "Royal Kochakademie" seinen Schülern und Gästen zu vermitteln. Das gibt es Geschmortes Wangerl vom Schottischen Hochlandrind aus dem Paznaun oder Rehpofesen auf Pfefferapfel mit marinierter Entenleber oder Lasagne von der Maniari-Schokolade mit Mango – ein Erlebnis für alle Sinne. Nachzulesen in seinem neuen Kochbuch "Von sieben Sinnen".
Eine Herzensangelegenheit sind ihm außerdem die Kinderkochkurse als "Workshops für junge Köche". Außerdem ist er Mitbegründer des "kulinarischen Jakobsweg" im Paznauntal, wo vier internationalen Sterneköchen für den Sommer die Patenschaft für eine der vier Alpenvereinshütten übernehmen und ein exklusives Gericht für die Sommerspeisekarte kreieren.

Mein zweites Highlight in Ischgl war der Besuch bei Benjamin Parth, 25-jähriger Aufsteiger des Jahres 2014 in Österreich, der seiner "Stüva" fast auf Anhieb 2 Gault Millau-Hauben verpasste. Als Musterschüler bei Hein Winkler, "Lehrbub" bei Marc Haeberlein im Elsass und dem Katalanen Santi Santamaria, macht er nun sein eigenes Ding im elterlichen Hotel – und das spitzenmäßig gut. Auch Jahrhundertkoch Eckart Witzigmann schätzt seine puristisch auf den Punkt gebrachten Kreationen. Ich habe mich schon in das Amuse-Gueule verliebt: Kleines von der Gänseleber mit Heu und Schokolade, dann Hummer aus der Bretagne mit Milchrahmstrudel, Taubenbrust mit Portweinkirschen, poschiertes Eigelb mit Morchelragout und Albatrüffel u.u. u. Ein Genuss par excellence!
Wer übrigens die besten Köche aus Deutschland und Österreich beim Skifahren kennenlernen möchte – sie messen sich auch heuer wieder von 6. – 8. April 2014 in hier beim 17. Sterne Cup der Köche. Statt um Michelin Sterne oder Gault Millau Punkte kämpfen 60 Sterneköche um Hundertstel-Sekunden und den perfekten Schwung auf der Idalp.
Nach dem Skirennen zaubern auf über 2.300 Metern Höhe sechs Kochteams in nur 15 Minuten ein Drei-Gang-Menü aus frischen Zutaten und versuchen, den Gourmet-Gaumen der kritischen Promi-Jury zu überzeugen. Und vom 9. Bis 10. April findet dann die Ski-WM der Gastronomie hier statt. Kellner, Köche, Sommeliers, Hoteliers, Gastronomen, Barkeeper, Winzer, Zulieferer und Gäste messen sich im Riesentorlauf in der Lifestyle-Skimetropole Ischgl und suchen ihren Weltmeister der Gastronomie 2014.