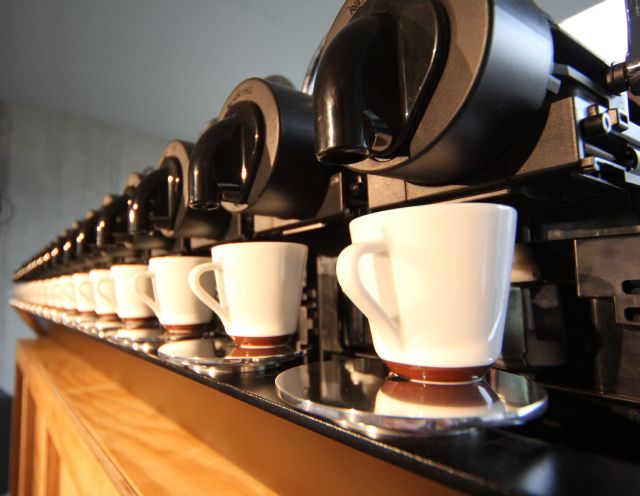 Zieht sie aus! Macht sie nackig! Entblättert Eure Maschinen! Reisst ihnen die Klamotten, äh Verkleidung runter! Und verkauft das dann als Kunst, denn: Sex sells! So einfach macht es sich der Kaffeeröster Nespresso in Zusammenarbeit mit Bloggern und Künstlern. Die Event-Serie "Coffee and Conversation" startete im letzten Jahr mit einem Fashion-Talk zwischen dem berühmten Streetstyle-Blogger Scott Schuman und der Berliner Bloggerin Mary Scherpe. In diesem Jahr stand "Coffee and Conversation" ganz im Zeichen des Designs: Der bekannte Münchner Designer Clemens Weisshaar interpretierte und inszenierte Nespressos neueste Maschineninnovation "Pixie" und ließ eine eindrucksvolle Installation zum Leben erwachen. Die Installation aus 36 in Reihe geschalteten und optisch veränderten Pixies bildete den Rahmen für den Design-Talk zwischen ClemensWeisshaar und dem renommierten britischen Design-Blogger Marcus Fairs.
Gemäß dem Pixie-Motto "More than you see" zeigt Clemens Weisshaar die Kaffeemaschine ohne ihre elektrisierende äußere Hülle und blickt ihr direkt bis in ihr "pulsierendes, technisches Herz". Zusätzlich inszeniert und demokratisiert er in seiner Installation den "perfekten Kaffee-Moment". "Die Entwicklung der Nespresso Maschinen ist mit unglaublich viel technischer Raffinesse und Expertenwissen verbunden. Diese Technologie ist wirklich ein wahres Erlebnis", so Clemens Weisshaar auf die Frage nach seiner Inspiration. Aber gab es so etwas ähnliches nicht schon vor zig Jahren von Swatch? Die Uhr, bei der man durch den durchsichtigen Kunststoff ins Gehäuse schauen konnte? Was jetzt anders ist? Die Maschine hat gar keine Hülle mehr.
"The Heart is a Machine" besteht aus 36 Pixies, von ihren äußeren Hüllen befreit und Rücken an Rücken in zwei Reihen à 18 Maschinen neu vereint. Die Installation ist knapp 2,20 m lang und 1 m breit, präsentiert sich in poliertem Chrom und schwarzem Kunststoff und steht stabil auf einer speziell angefertigten Box. Die einzelnen Pixie Maschinen sind voll funktionsfähig und produzieren auf Knopfdruck wahlweise einen Espresso oder Lungo. Gespeist werden sie von einem gemeinsamen 50 Liter Wassertank. Ihre Premiere feierte "The Heart is a Machine" Mitte April in Berlin, wo sie zum ersten Mal im Rahmen von "Coffee and Conversation" aktiviert wurde. Erste Eindrücke dazu gibt es hier bei notcot.com.
Holger Feldmann, Geschäftsführer Nespresso Deutschland, erweckte die Installation zusammen mit Clemens Weisshaar zum Leben: Auf Knopfdruck erhob sich das Surren von 36 Nespresso Pixie Maschinen und beinahe gleichzeitig verströmten 36 Espressi einen berauschenden Kaffee-Duft, der den Raum für den Talk zwischen Clemens Weisshaar und Marcus Fairs bereitete.
Gut 70 ausgewählte Gäste und Nespresso Fans lauschten gespannt den beiden Rednern, als es um Industrial Design, Designtrends und natürlich auch um Kaffee als wichtige Inspiriationsquelle ging. So meinte Marcus Fairs auf die Frage, was für ihn Design bedeutet: "Design ist eigentlich ein Portal, der Zugang zu dem Ort, an dem sich Intelligenz und echte Funktionalität vereinen und Wirklichkeit werden […] Ich denke, man könnte das Gleiche über Kaffeemaschinen sagen: Jeder wünscht sich eine Kaffeemaschine, die richtig guten Kaffee zubereitet und die aber vor allem leicht zu bedienen ist, mit maximal ein bis zwei Knöpfen."
Ich persönlich sehe das ja ganz anders. Ich trinke viel lieber Tee, bin also eher ein "Tee-ist". Kaffee ist eines der ganz wenigen Nahrungsmittel, das ich garnicht mag. Sorry folks. Ich brauche nur einen guten Wasserfilter, einen Wasserkocher, eine Teekanne und guten Tee.
Mehr Infos gibt's hier.