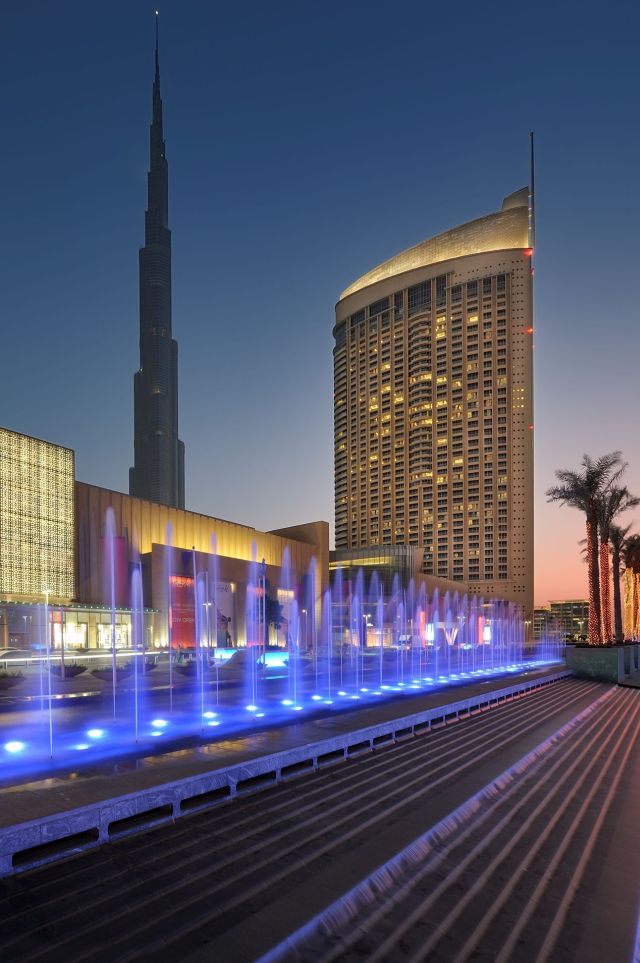 Während die Wirtschaftskrise sogar vor den ultrareichen Scheichs nicht Halt macht und in Dubai Rezession, Baustopp und Insolvenzen an der Tagesordnung sind, sollten dort auch die Hotelpreise fallen. Eine Möglichkeit für uns, dort günstig in Nobelherbergen abzusteigen. Seit kurzem hat eine weitere Edelherberge seine Türen für Gäste geöffnet: The Address Dubai Mall. Dieses Fünf-Sterne-Premium-Hotel ist direkt verbunden mit der Dubai Mall – dem weltweit größten Einkaufs- und Vergnügungszentrum.
Das dritte Haus im Portfolio der The Address Hotels & Resorts besticht durch spektakuläres, ellipsenförmiges Design und 244 elegante Zimmer und Suiten, die alle Blick auf das Stadtareal Downtown Burj Dubai bieten, das als das neue Herz der Stadt bezeichnet wird. The Address Dubai Mall unterstreicht seine unmittelbare Nähe zum Einkaufszentrum durch den neuen Service eines eigenen Fashion-Beraters und persönlichen Einkäufers.
[ad]
Das Hotel bietet eine Auswahl internationaler Küche. NA3NA3 wird bereits als eines der beliebtesten Restaurants für arabische Spezialitäten gehandelt. Amatista Lounge bietet eine Mischung aus arabischem und modernem Design; das Poolside-Restaurant Cabana überzeugt mit einer verführerische Auswahl an Cocktails und trendiger Musik; und Karat, die Lobby Lounge, ist ideal zum Entspannen geeignet. Ember, das Aushängeschild des Hotels, wird in Kürze eröffnet.
The Address Dubai Mall verfügt auch über einen luxuriösen Spa-Bereich mit einem Weltklasse -Angebot. Alle neun Behandlungsräume führen zu einem spektakulären Swimmingpool.
Das Hotel bietet ein komfortables Umfeld für Arbeitstagungen. Die sechs Veranstaltungs- und Tagungsräume können zwischen 15 und 40 Personen unterbringen und der Ballsaal bietet Platz für 650 Gäste.
Die Address Dubai Mall gesellt sich zu The Address Downtown Burj Dubai und The Palace – The Old Town, die beide von den Address Hotels + Resorts betrieben werden. Die Marke legt zudem mit Managementverträgen für Luxusimmobilien in Marokko und Frankreich bereits Referenzen für ihre internationalen Pläne vor.
Weitere Informationen finden Sie hier.